Starting 31st May, industry experts from across the world will explore next-generation solutions to combat surging international cybercrime at GISEC, the most influential and connected cybersecurity event in the Middle East and Africa to be held from 31st May to 2nd June at Dubai World Trade Centre (DWTC).
GISEC will host world-class cybersecurity innovators and experts, with participants travelling into Dubai from over 30 countries, including the USA, UK, Singapore, France, Germany, Russia, and more and will host over 150 exhibiting brands and a conference lineup of over 180 speakers.
The pandemic has caused a sharp rise in demand for cloud adoption, remote working technologies and infrastructure protection, according to Gartner, with CISOs across the world caught off guard by the rise in attacks since 2020.
With organisations across the world facing a brutal wakeup call following the damaging effects of the pandemic, CISOs, CIOs, CTOs, regulators and policymakers across government, finance, healthcare, telecom, energy and utilities, will unpack innovative strategies at GISEC to create a robust, cyber-resilient ecosystem that inspires trust in the digital economy.
Strategically organised in close partnership with the UAE's most influential cyber entities, including the UAE Cyber Security Council, Dubai Electronic Security Centre, Dubai Police, Telecommunications And Digital Government Regulatory Authority, Smart Dubai, the Investment Corporation of Dubai, ADNOC Refining and aeCERT, GISEC will curate and prioritise the region's strategic cybersecurity agendas.
The UAE Cyber Security Council will host the first ever Global Cybersecurity Congress at GISEC, where government cybersecurity leaders will share their expertise on some of the most pressing issues now facing the industry.
"The UAE Cyber Security Council is proud to host the Global Cybersecurity Congress at GISEC 2021," H.E. Dr. Mohamed Al-Kuwaiti, Head of Cyber Security, UAE Government, said. "We are looking forward to GISEC, where we will connect with our partners and forge greater ties with key stakeholders to identify solutions to mitigate the world's most pressing cyber threats. International collaboration and innovation is now essential, and it is imperative that we devise strategies for combating the cyber war that governments and businesses now face. Government cybersecurity leaders must now prioritise cyber intelligence sharing, developing robust public-private partnerships and building a future built on trust."
Enabling Resilience in Digital Economies
Held under the theme 'Enabling Resilience in Digital Economies', GISEC's hard-hitting conference agenda will host international cybersecurity innovators for three days of industry-shaping dialogue around the most pressing cybersecurity issues currently affecting enterprises and governments. Leading international solutions providers and cyber experts will gather at GISEC 2021, which will host debut country pavilions from Germany and Turkey.
GISEC 2021's powerful conference agenda will attract leading international cybersecurity experts, including Craig Jones, Cybercrime Director, INTERPOL; Sudhakar Ramakrishna, President and Chief Executive Officer, SolarWinds; H.E. Dr. Isa Ali Ibrahim Pantami, Honorable Minister of Communications and Digital Economy, Nigeria; Victor Gevers, Ethical Hacker and Co-Founder, GDI Foundation, who hacked former United States president Donald Trump's twitter twice; and Matthias Schranner, Founder and CEO of the Schranner Negotiation Institute, the FBI-trained negotiator who has advised the UN and will discuss tactics used in hacker blackmail negotiations.
GISEC's Saudi Arabia Focus Day will evaluate the country's growing cybersecurity spending, estimated to be worth $28 billion by 2025, and its evolving regulatory environment. Leading CISOs, regulators, policymakers and security authorities will discuss the Kingdom's roadmap, with speakers including Dr Faisal Sibai, Vice President and CISO of a sovereign wealth fund; Sultan Altukhaim, Chief Information Security Officer, The Saudi Investment Bank; Muath AlHomoud, CISO, Tasnee; and Hafiz Farooq, Global Security Architect, Saudi Aramco.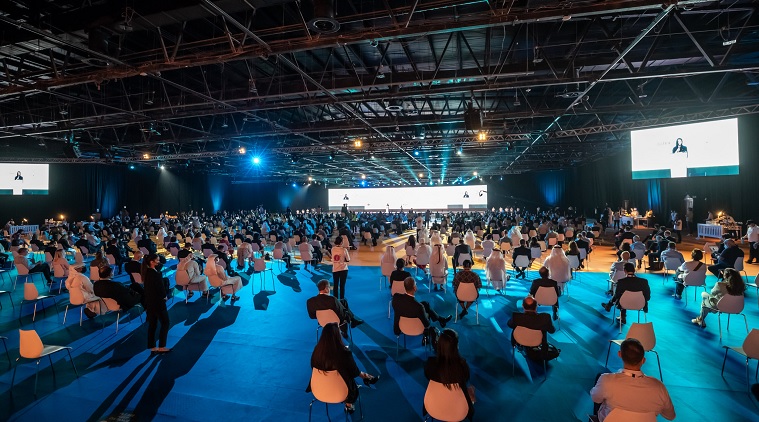 The Africa Forum will examine the effects of the continent's internet user threshold doubling to 1 billion by 2022, bolstering increased demand for technological transformation and advanced cybersecurity solutions as well as the continent's readiness for digital and crypto currency adoption. The Forum will hear from speakers including Abdul-Hakeem Ajijola, Chairman of the African Union of Cyber Security Experts Group and Dr. Kashifu Inuwa Abdullahi, CEO of Nigeria's National Information Technology Development Agency.
This year's GISEC Inspire Conference will focus on the role of women in the cybersecurity sector, where women currently make up a mere 20% of the global industry workforce and only 5% of the Middle East workforce. The agenda will bring together cybersecurity companies, governments, and big thinkers to promote ways to attract women into the field.
GISEC 2021 will take place amid the strict COVID prevention protocols which have enabled DWTC to prove its capability to curate the safest in-person business environment and deliver world-class events with the highest safety protocols.
"Cybercriminals are increasingly exploiting opportunities resulting from the abrupt rise in remote working – no organisation large or small is safe from this dramatic shift," said Trixie LohMirmand, Executive Vice President, Events Management, DWTC. "The threat landscape is rapidly evolving with critical infrastructure increasingly at risk, while business-critical data is more vulnerable than ever before. GISEC comes at a pivotal time in the battle against cybercrime. The opportunity to connect in person, to discuss defence tactics that will safeguard cybersecurity, is essential for governments and business decision-makers."
Comments